Big Jay Oakerson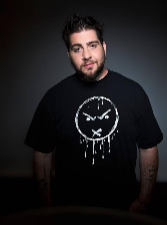 Comedian Big Jay Oakerson currently has a new full length, digital-only album, "The
Crowd Work Sessions: What's Your F@!?ng Deal?" on Comedy Central Records,
recorded live at The Stand Comedy Club in New York City. His second album at the
label is a follow up of his critically acclaimed "An American Storyteller." He is also
the co-host of The Bonfire with Big Jay Oakerson and Dan Soder, the first live weekly
show for Comedy Central on SiriusXM.
Philadelphia born and raised Jay Oakerson, has risen the ranks of New York City
comedy to become truly one of the best at the art of storytelling. Dubbed recently by
the New York Times as a "Master of the Dirty Joke," Jay has also mastered the art of
Crowd Work.
Many may know Jay from his television appearances, most recently on Late Night
with Jimmy Fallon. He is also known to many via the hit IFC show "Z-Rock," where he
received critical acclaim for his performance as "Neil," the sexually ambiguous owner
of a NYC rock club. His television credits also include Comedy Central's "Premium
Blend" and "The Half Hour" as well as "Tough Crowd with Colin Quinn." He's
appeared multiple times on BET's "Comic View" and HBO's "P. Diddy's Bad Boys of
Comedy." His first hour stand-up special will be airing on Comedy Central in 2016.
Jay has been a stand out at comedy and music festivals around the world, including
Just For Laughs in Montreal, Toronto and Austrailia. Additionally he has taken part in
the New York Comedy Festival, South By Southwest, Moontower Festival in Austin,
Tx., North By Northeast, Mayhem Festival among others. Jay will host the side Stage
for the 2015 Funny or Die Oddball Festival.